Giuseppe A. Samonà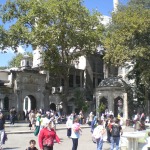 Città d'oriente tripudio di moschee di chiese polidosse di solitarie sinagoghe di viuzze che si intrecciano l'una con l'altra d'improvvisi spazi sontuosi piazze grandi alberi tropicali di nuovo stradine viuzze un odore stordente di seta di spezie e tutte tutti formicolanti di gente stretta in una tremenda morsa di caldo, ma ci hanno detto per carità non bevete mai l'acqua solo acqua minerale e noi siamo così giovani così belli: non vogliamo non possiamo morire.
Quel sole sopra le nostre teste però che brucia martella, quell'aria che sembra bagnata e non un filo di vento non una traccia d'ombra, noi appoggiati esausti sul muretto che delimita la grande pianura pietrosa intarsiata d'arabeschi vuota di umani, quell'arsura la gola secca un bisogno un'urgenza la sete ci divora ci uccide ma non un bar un chiosco un venditore ambulante – solo, in lontananza, al limite opposto, i carrozzoni sonnecchiosi di un circo disposti in semicerchio; con di fronte, nel mezzo, una fontana di marmo che vomita potente senza mai interrompersi: acqua, acqua tersa limpida trasparente profumata scintillante di frescura  e purezza – com'è possibile che tanta bellezza sia un subdolo inganno, una trappola? Pure, sappiamo: un sorso, anche uno solo, e saremo morti. Morti.
Allora ci avvicina un uomo, un giovane, ma più vecchio di noi, più maturo (porta infatti dei folti baffi neri). Avete sete? (sì, ce lo dice nella nostra lingua segreta: ma come avrà capito?) E senza attendere la risposta, indica la fontana. Per aggiungere rassicurante – intuisce il nostro esitare –  che possiamo bere senza timore: lui è medico. E sa. Con certezza. Non c'è inganno, trappola –  quell'acqua è proprio come sembra: tersa, limpida, pura… Mentre noi rassicurati siamo già con le mani sul marmo della fontana (lui ci ha seguito, spiegando), e beviamo beviamo, avidi, insaziabili. Felici. Quindi, ancora gocciolanti, lo guardiamo, lui, l'amico, il nostro salvatore – che spostando il suo dito indicante verso la sinistra rivela finalmente – e il tono della sua voce si fa perentorio – l'inoppugnabile prova: Ci ha bevuto l'orso!
L'orso. Che dalla sinistra, sul fondo, l'estremità d'una catena alla zampa (l'altra estremità è tenuta da un omaccione, anche lui baffuto), trotterella docile, si dirige verso di noi, la fontana. La morsa di caldo è tremenda, e ha di nuovo sete.
…
N.B. The "Near East" is the geographical area more commonly referred to today as the "Middle East". It is the term generally employed by archaeologists and historians of the Ancient World. For biographical reasons I prefer it to the more contemporary appellation, especially when dreaming about the past and revisiting memories. The title is a near quotation from Joseph Conrad, one of my favourite classical writers.
(Vedi anche: Et c'est encore ainsi que le Proche-Orient m'apparaît)