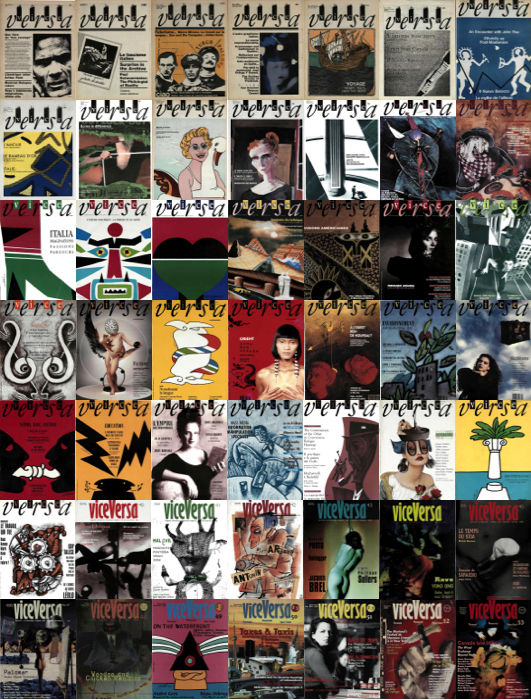 ViceVersa n'a jamais été une revue académique, never. Rather a magazine of ideas, un recueil d'utopies périodiques !
Les gens cependant nous ont vus de « toutes les couleurs » : intellectuels, frivoles, engagés, branchés, esthétisants, ethniques, élitistes ! C'est toujours comme ça, people see what they like to see and want … è fatale.
Durant les presque quatorze ans de son activité, ont été nombreux les articles et entrevues consacrés à ViceVersa dans les journaux, revues, radio, TV de Montréal et Toronto mais aussi d' Italie, de France et de Suisse. Puis, en décembre 1996 le magazine ferma ses portes : « Government pulls plug on mag » ainsi titra un journal de Montréal, la pure vérité.
Désormais devenu « historique », ViceVersa commença à susciter l'intérêt de quelques chercheurs. Le premier travail académique a été le mémoire de maîtrise de Fabiola Pardo, canadienne originaire de Colombia, présenté au département de sciences politiques, Faculté des études supérieures de l'Université de Montréal en mai 1998. La thèse de Fabiola était titrée « Une perspective politique transculturelle : le cas de Vice Versa ».
Quelques mois plus tard ce fut le tour de la thèse de « laurea » (Master) de Chiara Canzutti soutenue à l'Università di Udine en 1999, avec le titre « Il percorso 'transculturale' della rivista canadese Vice Versa (1983-1996) ».
Le troisième travail académique est de 2003, une thèse de maîtrise « Vice Versa. Magazine Transculturel, Transcultural Magazine, Rivista Transculturale : Challenging Ethnicity and Language Practices in Québec » défendue par Alessandra Renzi au John F. Kennedy-Institute for North American Studies, Language Department de la Freie Universität Berlin, le 27 février 2003.
Passa il tempo ma non l'interesse.
Tout récemment le magazine a été l'objet de deux essais, l'un paru en 2012 et l'autre en 2014 qui ont fait le bilan de l'activité transculturelle de ViceVersa en tenant compte aussi des analyses critiques de quelques intellectuels québécois comme Simon Harel et Pierre Nepveu parmi d'autres.
Il s'agit de l'étude de Sheena Wilson, professeure adjointe au Campus Saint-Jean de l'Université de l'Alberta à Edmonton et directrice du Centre d'écriture bilingue. Son essai est paru dans l'International Journal of Canadian Studies / Revue internationale d'études canadiennes, n° 45-46, 2012, p. 261- 275, sous le titre « Multiculturalisme et transculturalisme : ce que peut nous apprendre la revue ViceVersa (1983 -1996) ». Lire ici
Cette année, Danielle Dumontet qui a enseigné les littératures française et francophones ainsi que la traduction au département d'études romanes de l'université Gutenberg à Mayence en Allemagne, a publié dans le Zeitschrift für Kanada-Studien 34, 2014, pp.87-104 un essai intitulé « La revue Vice Versa et le procès d'autonomisation des 'écritures migrantes'». Lire ici
Voilà, un petit raccourci sur l'intérêt que les universités nous ont accordé et nous accordent encore aujourd'hui…
The mag is still going strong…