Giuseppe A. Samonà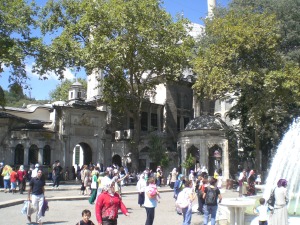 Villes orientales fête ou rêve de mosquées d'églises polydoxes de rares synagogues solitaires de ruelles qui s'entrecroisent l'une avec l'autre à travers ici et là soudains et inattendus espaces somptueux places grandes arbres tropicaux de nouveau ruelles et rues encore plus petites que les ruelles odeur  étourdissante de soie d'épices et toutes tous fourmillant de gens étouffés par l'étreinte d'une chaleur épouvantable, mais ils nous ont dit surtout ne buvez jamais l'eau que de l'eau minérale et nous sommes si beaux si jeunes: nous ne voulons pas nous ne pouvons pas mourir.
Pourtant… pourtant : le soleil surplombant nos têtes qui brûle martèle, l'air qui semble mouillé et pas un fil de vent pas une trace d'ombre, nous épuisés adossés comme verticalement allongés contre le petit mur qui délimite la vaste plaine pierreuse marquetée  d'arabesques vide d'humains, la soif ardente la gorge desséchée un besoin une urgence la soif nous dévore nous tue mais pas un bar un kiosque un vendeur ambulant – rien, sauf, au loin, du côté opposé, les roulottes sommeillantes d'un cirque disposées en demi-cercle ; avec en face, au milieu, une fontaine en marbre qui vomit puissante sans jamais s'interrompre : de l'eau, de l'eau claire limpide transparente parfumée étincelante de fraîcheur et pureté – comment est-il possible qu'une telle beauté ne soit que tromperie, et piège ? Pourtant, nous le savons : une gorgée, même une seule, et nous serons morts. Morts.
Mais voilà, un homme s'approche, il est jeune, mais plus âgé que nous, plus mûr (il porte en effet des moustaches épaisses et noires). Asis sidi?Avez-vous soif? (oui, il nous le dit dans notre langue secrète: comment a-t-il pu comprendre?). Et sans attendre la réponse, il nous indique la fontaine. Pour ajouter rassurant – il perçoit notre hésitation – que nous pouvons boire sans rien craindre: il est médecin. Et il sait. Avec certitude. Pas de tromperie, pas de piège – cette eau est exactement ce qu'elle paraît: transparente, limpide, pure… pendant que, rassurés, nous avons déjà les mains sur le marbre de la fontaine (il nous a suivis, tout en donnant ses explications), et nous buvons, buvons, insatiables. Heureux. Puis, encore ruisselants, nous le regardons, lui, l'ami, notre sauveur – déplacer son doigt vers la gauche pour enfin révéler – et le ton de sa voix devient péremptoire – la preuve irréfutable: l'ours en a bu!
L'ours. Qui depuis le côté gauche de la place, au loin, l'extrémité  d'une chaîne à la patte (l'autre extrémité est tenue par un homme corpulent, lui aussi moustachu), trottine docilement, semble s'approcher, se dirige vers nous, vers la fontaine. La chaleur mord toujours, accablante, et il a de nouveau soif.
N.B. The "Near East" is the geographical area more commonly referred to today as the "Middle East". It is the term generally employed by archaeologists and historians of the Ancient World. For biographical reasons I prefer it to the more contemporary appellation, especially when dreaming about the past and revisiting memories. The title is a near quotation from Joseph Conrad, one of my favourite classical writers.
Paris, novembre 2013