Patricia Vergeylen 
Tom fled Montreal to pursue his dream of designing princely gardens in Morocco.   His legacy in Montreal are beautiful, unconventional gardens which seem natural wooded areas in the city. He would scan the Laurentian forests to reproduce nature's pattern in the city . Various houses now in congested Montreal overlook Tom's creations: miniature Canadian oasis.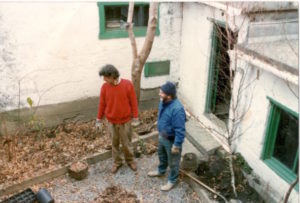 Tom however was never able to obtain a secure living from his work  as his passionate, uncompromising gardening credo would lead to disagreements with his customers as he only liked white flowers! and bitter feuds with fellow landscape architects. A year prior to his departure, Tom had been hired to design a municipal park in a Montreal Suburb. Tom's original and passionate determination to create a park that would be a tribute to native burial traditions, an unprecedented design for a Montreal public garden led to confrontations with various contractors. His unwillingness to compromise and deal with the contractor's misgivings led to his dismissal.
In 1992, Tom packed all his wordly goods in a container: science fiction, history and gardening books, a thirty year old collection of National Geographics, recycled objects and old agricultural artifacts, massive stones (sic). He took photographs of all the gardens he had designed, borrowed money from his friends and left to seek fame and fortune in Morocco. His first few years were spent in dire poverty, he was hospitalized twice for malnutrition and his precious container was seized by Moroccan authorities.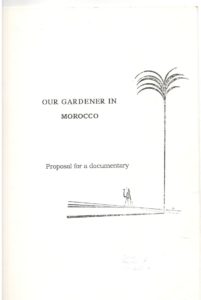 Complicated bureaucratic procedures prevented him from retrieving most of his possessions with the exception of a few books. His first landscape architect contracts consisted of tending gardens and animals in exchange for room and board. Moroccan landowners at first were not impressed by Tom's appearance. That of a disheveled , pot bellied hippy, nor by his credentials, various university degrees, and publications, his numerous theories about soil composition, drainage and lessons in Feng Shui. Study of the forces that links one to his surroundings.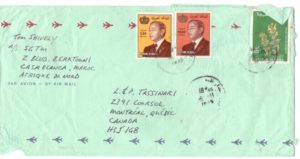 Finally after many arduous years, Tom succeeded in doing the work he loved: creating gardens in a luscious land . He was also busily transposing the desert into the cities of Casablanca and Fez.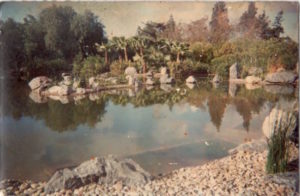 His letters and postcards became infrequent and suddenly stopped. One year later we received a phone call from a common friend, informing us that Tom had died.
A few years later I searched the internet for his name..
I found a Tom Shiveley in a small American town, I kept on reading about this Tom Shiveley…then quickly realized he wasn't our Tom .
Tom returns though every spring with his flowers, he also gave us two birch trees which we nurture and love…. My biggest regret is that he never called us when he was hospitalized…we would have hopped on a plane to be with him.